Inventors & Innovators Stories
As this year's theme is  @Inventors and Innovators @ and key hashtag is #ImaginetheFuture, we asked RME female employees to answer to the question: "As a woman in Engineering, what kind of future do you hope to build?" 
Why we need more women
in engineering
On June 23rd 2022, we celebrate International Women in Engineering Day, a day to celebrate the achievements of women in engineering and to encourage more young women to study engineering. There is still a need to encourage more girls to enter the profession, as of June 2021 only 16.5% of all engineers in the UK are women.
I personally recognise the gender imbalance in engineering. In my first year of studies in Belgium, only 7% of students in my program were women. When I went to Georgia Tech in the USA for my second master's, I was surprised to learn The Ratio (referring to the ratio of male to female students) was a famous concept, which even had its own song. During my PhD in the Netherlands, I was often the only woman in a meeting room, and I went on to become the first professor in civil engineering at Universidad San Francisco de Quito (Ecuador). In all countries where I lived and studied, there was and is a gender imbalance in engineering.
WE NEED MORE WOMEN IN ENGINEERING
There are many reasons why we need more women in engineering. The first reason is that diverse teams perform better.  Studies have shown that women, on average, tend to perform better on multi-step problems that require detailed calculations, whereas men are apt at solving problems that require a sudden flash of insight. The combination of both skills leads to a better generation and execution of ideas in diverse teams. In addition, women tend to be more risk-averse and men more confident, so that diverse teams can strike a balance between caution and confidence.
The second reason is that we need all hands on deck to tackle the challenges of the 21st century, from climate change to ethical developments of artificial intelligence. We need engineers with a wide range of skills and abilities to develop solutions. You may, for example, think that civil engineers walk around on a construction site, wearing a hard hat and steel-toe boots. But did you know that civil engineers work on a wide variety of problems? Some work in the field of transportation and try to solve the traffic problems of congested cities. Some work in the field of flood risk, and design the solutions necessary to keep our cities safe as sea levels rise due to climate change. Other civil engineers work on the development of materials with a much lower carbon footprint than concrete and steel to build low-carbon bridges and buildings.
The third reason is that we need more women in upper management in engineering firms to develop company policies that reduce the number of women who leave the profession: from programs that help women develop their confidence in the profession, to more flexible working hours and family leave to accommodate care responsibilities. Surprisingly, mother-friendly companies perform better on the financial markets than those who do not have accommodations for working mothers, and companies that have policies to promote the work-leave balance of employees with children lead to a better work-life satisfaction for all employees, including those who are single and childless. Policies that are typically geared to women in the workforce tend to improve the overall culture of the workplace, and engineering companies and faculties certainly can learn from these insights.
WHAT CAN WE DO TO BRING MORE WOMEN TO ENGINEERING?
At various stages in the life of young girls, we can do more to inspire them to become engineers. Here are a number of ideas that we as a society can keep in mind to close the gender gap in engineering:
Encourage girls to study science and mathematics: It's time to let go of the bias that girls are not good in science and mathematics. It's more than time to stop the message that careers in science and engineering are not suitable for girls. Instead, we should encourage girls from a young age to learn to code, to join in fun science experiments and select course schedules in secondary school that prepare them for engineering studies.
Show role models: As long as the bias is prevalent in society that engineering is not for women, we need to put the contributions of women engineers in the spotlight. The movie "Hidden Figures" is an excellent example of promoting the contributions of women engineers. In fact, I've now read various essays of young girls applying for a scholarship in which they describe how inspired they were by this movie to become engineers themselves. We also need to improve the images we use when talking about science and engineering. A quick online search on "engineer" will show many images of men in hardhats and very few women. We can consciously change the images we select when writing about engineers.
Explain the impact of engineers on society: Engineers solve problems, and hardhats are optional. It is important that young girls better understand what engineers really do, and how exciting it is to work on the major challenges of the 21st The image that engineering work is dull and boring is pervasive, so we need campaigns to banish this misunderstanding.
Create scholarships: To give more young women the chance to study engineering, dedicated scholarships are necessary. At my university, we have an annual scholarship to cover tuition for one female student in science or engineering. Besides receiving the financial bonus, the student also gets mentoring from female professors and her achievements during her years at university are celebrated in a group of female professors and fellow scholarship holders, as well as other science and engineering students.
On International Women in Engineering Day, we take a moment to acknowledge the achievements of women engineers, as well as to understand the long way ahead of us to achieve gender balance in engineering. In this post, I explained why we need more women in engineering, and what can be done to bring more women to the field of engineering.
Helen Gagg
Human Factors Systems Engineer
Helen joined Boeing Defence UK in July 2021 as a human factors systems engineer. She currently works on the Gladiator programme to ensure that human factors requirements provided by the Ministry of Defence are being satisfied, ultimately helping to deliver the synthetic training system to the Royal Air Force.
Helen has worked as a human factors specialist for more than 19 years, including supporting on engineering projects in the rail and oil and gas industries in the UK and abroad. Her roles have involved working within multi-disciplinary and cross-cultural teams to ensure that the end users were considered in the design, and that requirements and regulatory standards were being met.
She has a BSc in ergonomics (human factors) and MSc in organisational behaviour.  She said: "I have a passion for developing products and designing working environments that are reliable, safe and efficient, and it is my job to work together with other engineers to do that."
"My career to date has been varied, I have seen things I genuinely never knew existed in terms of the jobs that people have to do and the environments in which they must do it. The industries I have worked in are male dominated and so this has become my norm – often I have been the only woman at the meeting room table or the only one in a technical role on the entire project, and it has taken time to develop the confidence to feel OK in these situations. Whilst the numbers of females in STEM roles is low, in Boeing it is the most women I have ever worked with; positive change is happening and I would encourage others to consider a career in engineering – the roles, projects and locations can take you in unexpected and exciting directions." 
Zeenat Wadee
Graduate Engineer
Zee started at Boeing in October 2021 in Boeing's Engineering Graduate Scheme. She completed her first rotation in an out-of-function role as project management support and currently works in a split second role as a CAMS (computer aided metrology systems) engineer on the E-7 Wedgetail programme in Birmingham and as a manufacturing engineer on the CH-47 Chinook remotely and in Boscombe Down. Both roles are helping to deliver two essential aircraft to the Royal Air Force.
CAMS is all to do about laser alignment to ensure that certain components on the aircraft are fitted to the correct tolerance. The manufacturing engineering role is about liaising between the shop floor and other engineers, procurement agents and suppliers to ensure that the operation is running smoothly and to drive forward progress.
She said: "I first realised I wanted to pursue engineering when I had the chance to take part in the Engineering Education Scheme in Year 12. I really enjoyed applying maths and physics principles to real-life problems and working on a project with a company so I could learn about their process for tackling an engineering project. As a result, I went on to study mechanical engineering at university and then completed an MSc in mechatronics before luckily landing a job which I am absolutely loving so far."
Zee is part of the STEM team and has presented a Make Engineering Cool Again session to a Year 2 class. She helps organise charity events as part of Boeing's volunteering network, REACH.
Maisie Dobbs
Graduate Engineer
Maisie is the graduate representative on Boeing's UK STEM Committee and also the lead of the Early Careers UK STEM Team (including interns, graduates and apprentices).
Maisie graduated in 2021 from the University of Sheffield, where she studied aerospace engineering and was a member of Sheffield University Women in Engineering Society. She completed an engineering internship at Boeing from 2019-2020 and started the Boeing UK graduate scheme in October 2021
Maisie's first placement was at Army Aviation Centre Middle Wallop working in the Attack Helicopter Training Service on the Apache LCT (Longbow Crew Trainer) simulators. Her current placement is at the other end of the UK at RAF Lossiemouth, working as a maintenance planner for the nine P-8A Poseidon's based here.
Maisie is a registered STEM Ambassador and takes part in Boeing and external events and activities. She and her sister run a blog called 2 Sisters In STEM, where they share their journey, stories and experiences of being women working in STEM fields.
She said: "Encouraging girls and women into STEM and engineering is a huge passion of mine!"
On 23rd June, it's The International Women in Engineering Day. The event celebrates the work that women around the world are doing to support lives and livelihoods in engineering. Equipment repair and supply company, Rotamec, is one of the engineering organisations recognising and encouraging the role that women play.
#INWED22: Women celebrated for engineering roles
Promoted by The Women's Engineering Society, which champions the role of women alongside men in engineering, The International Women in Engineering Day 2022 (#INWED22) on Thursday 23 June is the opportunity to recognise the role that women play. Supported by organisations from The Royal Academy of Engineering to McLaren Racing, Rotamec is also invested. Equality of opportunity and its female workforce together play a key role delivering the company's 24/7 service in the repair and supply of motors, gearboxes, and industrial equipment.
"The International Women in Engineering Day is a celebration of the contribution of women, but for companies like Rotamec, it represents the values of equality that support opportunities for women across engineering," says Harriot Cullen, Marketing Manager, Rotamec.
Since its inception in 2000, Rotamec has been a supporter of women in roles across the company, and today includes an increasing number of female employees.
"Fully committed to diversity, Rotamec is actively encouraging women to work in engineering roles, as well as business operations, alongside men," says Louisa Tuck, Human Resources at Rotamec. "This starts with engagement with schools and colleges, for example we're about to recruit a female apprentice in a hands-on engineering role in the repair of motors and associated equipment."
The message from Rotamec's leadership is to actively encourage women to follow their ambitions in the sector.
"Rotamec has always been ahead of its time with diversity & equality, actively encouraging & supporting females in both workshop & operational roles, right from the get-go with our renowned apprenticeship schemes." says Claire Pearson, Financial Director, Rotamec.
Encouraging women in engineering
Today, Claire has a leadership role on Rotamec's board of directors and her experience is a motivational example of progression.  
"I began my career 28 years ago in the workshop rewinding stators, progressing on to customer fronting sales alongside telesales, and in 2000 I started the journey for my passion in finance for Rotamec Ltd," explains Claire. "This practical experience has given me an excellent knowledge and understanding of engineering, assisting me to make accurate financial decisions for the company today. Rotamec has provided superb support and training in my chosen progression within the company. This thread is the ethos that runs through every department within the company."
Support from Rotamec includes funding for formal qualifications and training. For example, Louisa Tuck is currently studying CIPD (Chartered Institute of Personnel & Development) Level 5 in People Management, and Harriot Cullen is being supported through CIM (Chartered Institute of Marketing) Level 6 Diploma in Professional Digital Marketing.
Like any engineering discipline, a lot of learning and training takes place in the working environment itself. Cohesion and mutual support at Rotamec have been key to ensuring equality as well as effective teamwork, especially within a traditionally male-dominated area.
"They're a really supportive and informative team," says Fiona Brooks, Site Service Coordinator, talking about Rotamec's on-site engineers. Fiona's role is to support the team by organising the repair schedule, site visits, and procurement of the vital parts the team needs to quickly carry out repairs.
"From the guidance of Site Services team leaders, through to the support of the engineers, I've been able to take on a lot of practical development in the role," says Fiona. "With such variation in industrial applications, it's an ongoing learning process. The engineering team continues to help me develop, and likewise, they also rely on my support to get to the customer on time with the right parts."
Engineering expertise
At Rotamec, women also take on leading engineering roles, ensuring that service levels are maintained across the company's 24/7 response. Fiona James, with over 20 years' industry experience including the MRO environment, has recently been appointed to run the company's Pontypool branch, covering industrial repair and projects across South Wales.
"My remit is to ensure that the service requirement is met, and that repairs are made on time to get the customer back up and running as quickly as possible," says Fiona, who's responsible for the branch's engineering team and workshop. "My role is indicative that Rotamec recruits people on merit. At the Pontypool branch, we hire based on suitability of the individual, and this applies across Rotamec."
Wendy Davies has a workshop sales administrator and buyer role, providing support to the workshop manager and team.
"Prior to joining Rotamec, I was a buyer within Rolls-Royce," says Wendy. "This experience was crucial in enabling me to take on the demands of my role today, supporting the customers with the equipment and parts they need."
Workplace equality and flexible conditions
Equality at Rotamec for men as well as women also extends across flexible working conditions.
"Our business is 24/7," explains HR's Louisa Tuck. "Customers need round the clock care, but our employees also have dependents and other responsibilities. We look to provide flexible working whenever possible, and this covers all Rotamec employees." 
Although the engineering sector continues to have a higher proportion of men, Rotamec's progressive outlook underpins the value that women bring to the company and its customers.
"Here, we all treat one another as individuals, recognising the skills and experience that each person brings," says Claire Pearson. "The industry has changed much in this respect over recent years, and companies like Rotamec are spearheading the inclusion of women in engineering."
To find out more about the roles currently available at Rotamec, visit https://rotamec.com/careers-at-rotamec/
Harley Haddow shines a spotlight on women engineers
ENGINEERING consultancy Harley Haddow has announced plans to encourage more women into the industry.
To mark International Women in Engineering Day on June 23, the firm is highlighting inspirational members of the team, who also share their top tips for females interested in a career in engineering.
Anna Brown is a graduate energy engineer within the firm's energy department. The 24-year-old believes more needs to be done in schools to educate both genders on what engineering actually is.
She said, "I've recently been visiting a local high school to work with pupils who want to join the construction industry and only three out of around 20 students were girls. I think there is a lack of encouragement for women to go into engineering in the first place and addressing this at a younger age would make a difference, teaching pupils about what engineering involves. Even a fun spaghetti and marshmallow building challenge can start that conversation."
Kathryn Skyes was inspired to become a structural engineer because she loved seeing how varied buildings could be around the world on her travels. She is currently studying her Masters part-time whilst working as a project structural engineer.
"Harley Haddow have been fantastic at supporting me through my progression of training to get me where I am now. I would advise women interested in being an engineer to definitely go for it," she explained. "Engineering covers a very wide range of careers that suit various interests and skills so there are lots of opportunities to get involved in something that suits you. Engineering will always need young people who are passionate if we want to see positive change especially with respect to diverse representation and sustainable design."
Sally Santa has worked for Harley Haddow for four years as a project structural engineer and thinks entrants into the industry will be inspired by more women in leadership positions.
She said, "This will help younger women to follow in their footsteps. I also think expanding the female network within a company and ensuring there is good support in terms of communication about what women can experience in the workplace and maternity leave will make a big difference.
"I would encourage young women who want to work in engineering to be confident and try to participate in seminars or training that will further develop their knowledge. During their studies they should grab the opportunity for internships, it is a great benefit to get one and see how the industry works at an early stage."
Colin Tait, director at Harley Haddow, commented, "It's great to hear Anna, Kathyrn and Sally sharing their thoughts around women in the industry, which is something we are passionate about encouraging at Harley Haddow. Through our support of our staff, career training and development, and also ongoing work in local schools and through our career days, we hope to help bring the next generation of talented engineers into the industry and we wanted to highlight that as part of Women In Engineering Day.
"It's a platform to strike up debate around what more can be done to achieve this, and with the effects of the pandemic still being felt, it has never been more crucial to continue doing what we can to help create routes into the industry."
Women in Utilities: Q&A with Elizabeth Donnelly of the Women's Engineering Society
At Lanes Group, we understand that efforts to create more opportunities for women in the drainage and utilities sectors will require an industry-wide commitment to dismantle any barriers that have traditionally held female workers back. As such, we are proud to support and promote the work of the various industry organisations that are delivering on this goal.
The Women's Engineering Society (WES) is a leading example of this push toward gender equality. Originally founded in 1919, the charity has been promoting the education of women in engineering for more than 100 years, and operates a professional network of women engineers, scientists and technologists to offer inspiration, support and professional development to skilled female professionals striving to succeed in this sector.
Lanes has organised a Q&A with WES chief executive officer Elizabeth Donnelly, who has generously given her time to share some of her expert insights into what businesses need to do to bring more women into the engineering and utilities sectors, as well as steps that female professionals can take to give themselves the best possible chance of a successful career.
What is the core mission of the WES?
The Women's Engineering Society's mission is to support women in engineering to fulfil their potential and support the engineering industry to be inclusive. We focus on:
Supporting women in engineering at every stage of their career;
Supporting businesses and institutions to attract and retain women in engineering; and
Shaping the engineering gender diversity debate in the industry and with the government.
We deliver professional development support, including mentoring, webinars, access to jobs, and voluntary roles and networking opportunities that are specifically targeted at women in engineering who want to progress in their careers. We do this through our WES platform, with a multi-tier subscription model that reflects our members' career stages, or through employers or educational institutions who subscribe on behalf of their people. We also campaign on key issues related to gender diversity in arenas with government, regulators and institutions.
Since our origins over a century ago, we have always provided opportunities for women engineers to meet together to share experiences and knowledge, and this continues today through social media, webinars and virtual events. Some of this will continue beyond the pandemic because it allows us to reach more people in diverse locations.
I joined WES in the summer of 2018, and since then I have professionalised WES by improving its governance to create a more stable Board of Trustees, enhanced our messaging by employing a marketing company to work for us, and expanded our staffing by employing passionate people with a lot of expertise in account and membership management. I have stabilised our financial position despite the pandemic, generating a surplus for two out of three years, and returning a small deficit in the first year of the pandemic. WES is on track to deliver the highest surplus of my tenure at the end of this financial year and restore more than two-thirds of lost income during the pandemic.
We have plans to begin delivering events in person during 2022, which will generate more income and reach out to more women and companies than ever.
What is the current state of female recruitment in utilities?
Women currently make up 16.5% of all engineers in the UK, which is an improvement on the 12.4% recorded in 2016. However, it is still not enough, and being so outnumbered by men means women find it difficult to get into engineering and to progress in their careers, despite their talents.
Cultural barriers include:
A lack of encouragement for girls to study maths and sciences at schools at an advanced level
Funnelling girls who do achieve good results in maths and science into medicine, teaching and research at school, rather than being encouraged to work in engineering
Scepticism from boys and young men that girls and young women have secured apprenticeships and university places on their own merit, despite girls and young women's results being much better than boys and young men's
Denial of advancement at work from sceptical managers and employers, despite evidence of high achievement
Structural barriers include:
Algorithms in evaluating CVs that mark down women when gender indicators are present
Male-coded job adverts that prevent women from applying
Lack of pay transparency that leads to women not negotiating bigger salaries, and attitudes of recruiters that celebrate saving money on recruitment, but don't appreciate they've increased their gender pay gap
Too many "essential" criteria in job adverts that put women off applying, despite being well-qualified for the role, because women think they don't fit the criteria
A lack of female role models on websites and in workplaces, thus women feel they stand out – not every woman wants to be a trailblazer
A lack of well-fitting PPE and toilet facilities, particularly on outdoor sites
An assumption that women won't want to work in field camps or similar sites where the work would involve "roughing it"
Unconscious bias, where there is no intent to discriminate against women, but workplaces, working hours and deadlines have been created without considering the needs and responsibilities of women
We know that the number of women engineers is increasing, but a lot of this is for roles that are not typically in engineering companies. Engineering firms still seem to be unappealing to women. Partly, this may be because non-engineering firms already employ a lot of women in non-engineering roles, so the companies are set up to support women.
Improvement in engineering firms will only come when there are more women employed, so it is a bit of a chicken-and-egg scenario. Improvements in websites and publicity show it is people, particularly women, rather than infrastructure that will help, and there are ways that WES can support companies to improve advertising and recruitment.
How should the industry be looking to address this?
I'd like to see the engineering/utilities sector working in tandem with the government to solve these problems. On the government side, efforts need to be made to emphasise the value of engineering in its conversations and publicity – but there are barely two engineers in Parliament, so it's not high on their radar. I'd like to see design and technology back on the national curriculum and more engineering in schools; I'd like the National Careers Service and teachers to understand more about engineering. and stop steering girls away from it.
From an industry perspective, I'd like more publicity around the fantastic work done in the UK by engineering firms, and fewer assumptions about women's status. For example, some firms assume women won't want to relocate because of their husbands and partners, or won't want to work outdoors, when this is not necessarily true.
I'd also like companies to commit to change so that they are welcoming to women. The biggest obstacle women report is their direct line manager blocking their promotion, and I'd like the industry to address this. Engineering firms can also provide mentoring (via WES's MentorSET programme if needed) and championship – a lot of young men get championed by more senior engineers, and women need that too.
Prepare your workforce for women coming in by making it clear that women are just as capable as men, that sexist banter, harassment and behaviour will not be tolerated, and by encouraging the men to be open to suggestions. There are many ways to improve the workplace, and WES can support companies with suggested techniques. Make it as easy as possible for women to join, because most of them don't want to be a trailblazer or role model – they just want to do their job.
Why is it so important for employers to improve female recruitment?
Women in engineering are very determined and talented, because they have had to fight to get in the door. For businesses, this means that hiring more women will only enhance your organisation.
Women have to come up with ingenious solutions because they don't have the strength that men have. From this, we have innovative designs and products that also support men, such as wheeled suitcases and lifting equipment. This will also improve your company, because women are used to thinking around problems rather than meeting them head-on. WES can support firms to become more inclusive, change their recruitment practices and provide links to our member network of 2,000 women engineers. 
Be aware that employing women will change your company culture, often for the better, but you will reap rewards in terms of more profit and a better service. Change may be painful, but in the end, everyone will benefit. Women like to think they are part of something bigger and more important than themselves, and pitching your work as supporting the greater good will encourage more women to join.
How can women succeed in the utilities sector?
Go for it! Utilities provide the basic infrastructure for living comfortably, so they are vital for society. Being able to say, "I help keep the lights on", or "I'm part of the system that provides clean water and removes waste" is very aspirational and important.  
Determination is key, because some women will give up if there are obstacles in their way. Be prepared to defend your expertise and know that your qualifications are likely to be better because you've not been waylaid into other careers. There will be other women around, but you may need to find them, so joining WES immediately gives you a network of other women engineers who can support you.
The work varies every day, the pay is good, the gender pay gap is 9-10% – half the pay gap for the UK as a whole (18%) – because there are many more men at senior levels. However, all things being equal, in terms of geography and job level, women are very likely to be paid the same as their male counterparts, because the gender pay gap at each level is around 1%.
Above all, the utilities sector needs women's ingenuity to keep improving its services. WES is here to support you in your role, and you will find like-minded women engineers from many sectors among our members. Women engineers have a significant role to play in the sector in leading change and combating climate change.
Find out more
Lanes Group would like to thank Elizabeth and the WES for sharing these insights with us. If you would like to learn more about the WES and the amazing work they do, you can visit the WES website, where you can find out about International Women in Engineering Day, the flagship awareness campaign that WES runs on June 23rd each year to raise the profile of women in engineering.
If you want to learn more about how Lanes is working to improve female representation among our workforce, please visit our Women in Utilities hub page, where you can find additional information and resources such as our interview with the Womens Utilities Network.
To experience first-hand the opportunities we have to offer for women engineers and female staff, explore our job listings today.
C-Capture supports International Women in Engineering Day in imagining a brighter future
C-Capture – developers of world-leading solutions for carbon dioxide removal – are supporting International Women in Engineering Day (INWED) today, June 23, helping to increase the profile of women in engineering at a time when they are still hugely under-represented in their profession.
INWED, led by the Women's Engineering Society, increases visibility of women in engineering and promotes the sector as career choice to girls and young women. Only 16.5% of those working in engineering are female according to research published by EngineeringUK earlier this year.  As the only platform of its kind, INWED plays an important role in encouraging gender diversity in the sector.
Claudia Hernandez, Process Engineer at C-Capture, said:
"As women in engineering we have not just the ability but the responsibility to teach the younger generation and to put options on the table they've never considered."
As the only female from her school to go on to study science, and the only one to become an engineer, Claudia is passionate about supporting young women into engineering. She gives career talks at her former school and university, and mentors a female Chemical Engineering undergraduate. Claudia also oversees an internal programme that supports female colleagues with the challenges of working in STEM.
Claudia said:
"When you're at the stage of thinking 'What am I good at?' What do I want to do?' it's shocking that there are inadequate references in STEM careers. I didn't have any role models growing up. When a woman chooses engineering at college, people see it as 'difficult' or 'alternative'. Why should that be?"
Rose McCarthy is a Senior Chemist at C-Capture and is also an advocate of supporting the younger generation into STEM careers. Rose delivered a STEM-careers talk at her former secondary school earlier this year, inspiring pupils to explore a career as a climate change chemist with several male and female students since applying for work experience at the chemical engineering firm.
Rose said:
"It's so important that girls and young women are given the opportunity to make an informed choice. I was always really good at science at school, but it was difficult to know or to understand the options that were available to me for my future career. I wanted to do something to help redress that imbalance."
The theme for this year's INWED is 'Inventors and Innovators', celebrating the women working within engineering that are helping build towards a brighter future. As a developer of innovative carbon capture technology, C-Capture is proud to recognise the contribution that all the company's female colleagues make in developing next generation cleantech to mitigate the impact of climate change.
Jannice Dye is C-Capture's HR Manager and leads the company's HR function and People Strategy.
Jannice said:
"Diversity and inclusion are at the heart of our strategic objectives. We want to create an inclusive culture where diversity is seen as a real opportunity to create value for the company. We champion differing approaches and points of view. It fuels our innovation as a developer of next-generation, carbon capture technology.
"We're proud to recognise the phenomenal individual contributions that women across our engineering, scientific, administration and business teams make in enabling C-Capture to develop its technology to its maximum potential and play a critical role in building a brighter, more sustainable future."
#ImagineTheFuture
The ingenious women growing their careers in the engineering industry
Two senior women working in the energy industry reveal how they have been supported to grow their careers in a sector that is increasingly focussed on diversity and inclusivity.
Let's get the biggest myth out of the way first. "Engineering isn't all about engines," says Alison Hall. "It's about ingenuity."
That's why engineering is an industry for people who like problem-solving, she insists. Yes, in certain roles, you'll find yourself wearing a boiler suit and hard hat. But the opportunities of an engineering career are far more diverse and exciting than the traditional, narrow, 'oily rag' stereotype.
Alison studied aeronautical engineering at Imperial College London, but realised that she didn't want a career in the defence industry, so took a job with an oil field services company instead, working offshore in Texas and Australia.
In 2009, she joined leading low carbon energy company SSE plc. She is currently with the group's Scottish and Southern Energy Networks (SSEN) business, based in Aberdeen, as a Transmission Networks Lead Project Manager. "During my time at SSE I've worked in three different business units ," says Alison.
"The good thing about that is the variety of experience it's given me. It's as though I've worked for three different companies." This month, she steps into a new role as Head of Offshore Development at SSEN, overseeing upgrades to the high voltage network that transports power from the north of Scotland to demand centres around the UK.
BCECA support for INWED22
Click thumbnails below for full articles
Why I'm Rooting For Female Engineers
My thoughts and plans for this International Women In Engineering Day
By Claire Watson – Managing Director at Airmatic
Download the full article here
FIU celebrates its Panthers on International Women in Engineering Day
After her mom visited the principal's office, Hodges was allowed into the class as the only girl — and prospered. The teacher became her mentor and soon enough, she was entering national electronics competitions. Professor Hodges uses a glovebox in her lab to synthesize solar panel materials …
At a young age, Deidra Hodges was well-positioned to become an engineer. Her parents were educators and her older brothers worked with technology, constantly fixing things around the house. Wanting to be like her siblings, Hodges signed up for her high school's electronics class.  
But the teacher said she couldn't take it. 
"He told me to go take choir instead," Hodges says. 
After her mom visited the principal's office, Hodges was allowed into the class as the only girl — and prospered. The teacher became her mentor and soon enough, she was entering national electronics competitions.
Today, Professor Hodges is chair of the electrical and computer engineering department at FIU's College of Engineering and Computing (CEC). She is one of many women from CEC who are leading the way in engineering. 
A common stereotype in society says that women are better at "soft skills" like communication and empathy than men; therefore, they are better suited for professions outside of engineering.
Darlene Fernandez '06 is one woman who is flipping that stereotype on its head. 
In March, Fernandez was appointed executive director of the Miami-Dade Expressway Authority. She is using her knack for communication along with her civil engineering experience to implement the needs of Miami-Dade commuters while leading an interdisciplinary team of engineers. 
"I believe that women's ability to communicate and interact effectively combined with a strong technical background can take them very far," Fernandez says. "We just need to build up young women's confidence and self-esteem first so they know they can do this job." 
Fernandez says programs that introduce young people to engineering, like FIU's Engineers on Wheels, are vital to getting more women into the profession. 
"A lot of young women say, 'Hey, I don't want to be in an office all day. Is there anything else women engineers can do?'" Fernandez says. "If you show them what women engineers do who are 10 to 15 years out of school, then it becomes easier to understand how hands-on this profession can be."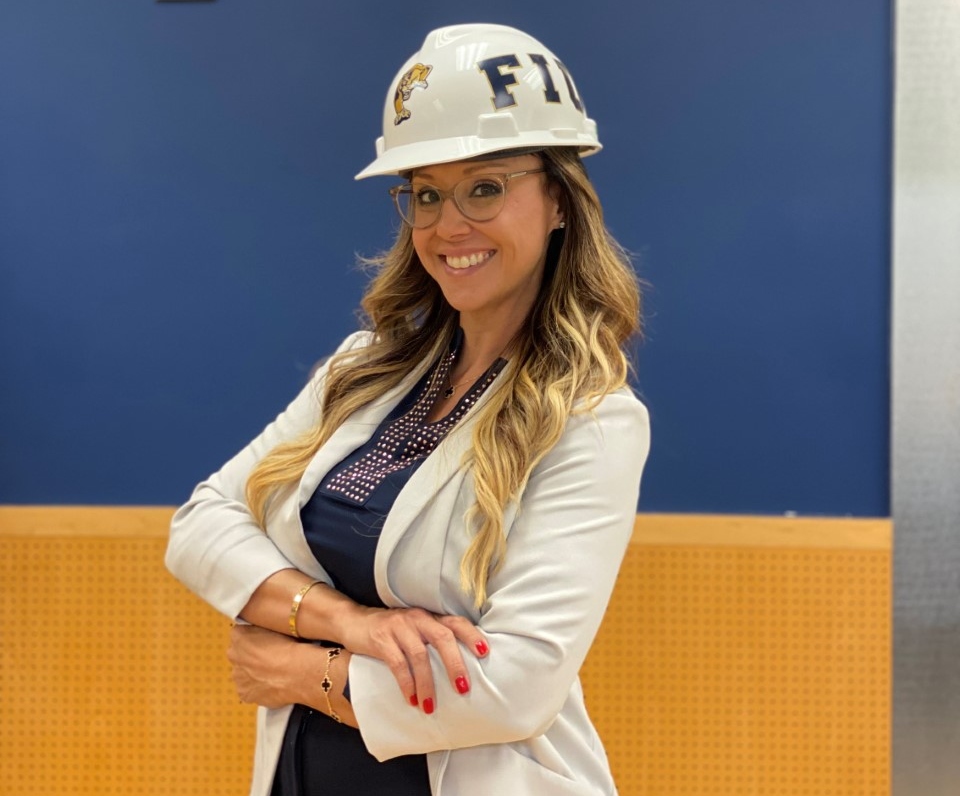 Naomi Lowe is one student at CEC who interacted with engineering at a young age. She was brought to the profession by a program at her high school. Lowe continued on with it and is now a mechanical engineering senior and a driver for Panther Motorsports. 
"For me, I just like how engineering is a way to apply and create your thoughts," Lowe says. 
This early experience is now leading to a promising career. In August, Lowe will be conducting data acquisition for motor emissions as an intern for FEV North America, Inc. 
"Making things better motivates me," Lowe says. "Our pollution problem and greenhouse gas problem are things that I want to work on." 
"If the opportunity is out there, it means it's there for you to take. If you're intimidated, it means it's worth taking."
While learning about engineering at an early age is helpful, some women at FIU are beginning from no experience and finding rockstar-level success.
Take senior mechanical engineering major Alexandra Berkova. She was studying English when she first came to FIU. The first-generation student switched to engineering after hearing more about it from a friend.  
Today, she is a member of a three-woman team that won Schneider Electric's Go Green for North America, a continental-wide clean energy competition. She and her teammates are prototyping a seawater battery that will use sodium from the ocean instead of lithium, a scarce material used in many of today's batteries.
"Once I started working in more technical roles, I realized that being an engineer is not as difficult as it's made out to be," Berkova says. "People say 'Oh, rocket science.' But it's just math and science. It's not something you get overnight. You have to build to it." 
Early Contributions by Women in Engineering
INWED22: A new era of female engineers
Today marks International Women in Engineering Day. Founded by the Women's Engineering Society in 2015, the annual campaign celebrates the women revolutionising the engineering industry, as well as recognising the new era of female engineers passionate about making their mark on the sector and continuing to pave the way for future generations of women.
Click here to read the full article piece